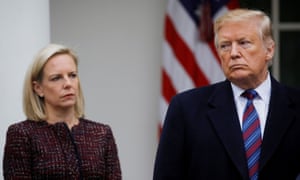 Few tears are shed for former homeland security secretary but she was reportedly 'undercut at every turn' by the president
3.21pm BST
Donald Trump has been pressing for the Department of Homeland Security to reinstate the controversial child separation policy, CNN reports.
The policy was reversed after intense controversy. But Trump has been insisting bringing it back was necessary to deal with growing numbers of migrants arriving at the border, according to CNN. Kirstjen Nielsen had been resisting, one of the splits with Trump that led him to push her out.
2.38pm BST
Lawmakers in New York are introducing legislation today that would allow state officials to release Donald Trump's taxes.
Senator Brad Hoylman is sponsoring the bill, which would let the commissioner of the Department of Taxation and Finance turn over state income tax returns requested by a congressional committee for a legitimate legislative purpose.
I am introducing new legislation to allow New York State officials to release state tax returns in cooperation with Congressional investigations.
If Washington fails to give the American people the transparency they deserve, New York will take the lead.https://t.co/Q7lshMBWv8