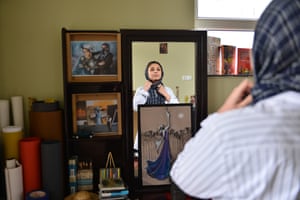 The Women by Women project commissions local female photographers to tell the stories of trendsetting women and girls, in countries where the charity ActionAid works. The series starts with these stories of radical women in Kabul, including a street artist, a kickboxer and a politician
In 2018, less than a quarter of photographs published in major media outlets were taken by female photojournalists. Women by Women aims to demonstrate the importance of showing diverse perspectives in photography; female as well as male; local as well as international, and how different the world can look as a result.
Putting this brief in the hands of local female photographers, the series starts in Kabul, Afghanistan, with the stories of a kickboxer, politician, street artist, yoga teacher, fashion designer and drugs counsellor. They are all breaking down gender barriers and shattering stereotypes in different ways, in one of the most dangerous countries in the world for women.