give him the boot!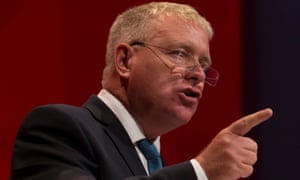 Lavery in 'broadside' at party leader during meeting of MPs
Jeremy Corbyn was warned by Labour party chairman Ian Lavery that he risked going down in history as the leader who split his party if he backed another referendum on Brexit, in an extraordinary outburst during a meeting of the shadow cabinet last week, according to senior party sources.
The Observer has been told that Lavery, who has twice defied the whip and abstained on votes on another referendum, delivered the broadside at Corbyn during a shadow cabinet meeting on Wednesday evening, at which Corbyn updated his frontbench team on talks with the government aimed at ending the Brexit impasse.