Fascist run amok!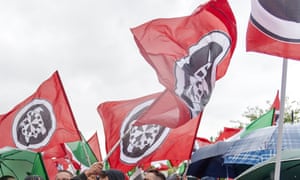 City council appears to capitulate after protesters set cars on fire and destroy food
Hundreds of neo-fascists, far-right activists and local residents took to the streets of a Rome suburb on Tuesday in a violent protest against 70 Roma people, including 33 children and 22 women, who were to be temporarily transferred to a reception centre in the area.
Demonstrators set fire to cars and bins, destroyed food that was meant for Roma and prevented their entry into a shelter for vulnerable people.