Lies about numbers and shows his racism in plain sight!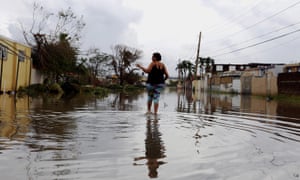 President opposes additional disaster aid for territory, saying funds were out of proportion to what mainland states got
Donald Trump told a meeting of Republican lawmakers that hurricane-devastated Puerto Rico had gotten too much rebuilding money compared with mainland states like Florida and Texas, hardening his opposition to further disaster aid for the US island territory.
Trump's ardent opposition to additional Puerto Rico funding sets up a showdown with House Democrats, who insist that a $13bn to $14bn disaster aid package that's a top priority for southern Republicans won't advance without further aid for the island.