Wants Nazi's, KKK, White Power Proud Boys, INCEL promotion as good guys in Trump's book!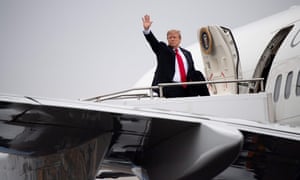 Trump to sign controversial executive order Thursday afternoon, while Stacey Abrams reportedly tapped as Biden 2020 pick
2.34pm GMT
In an interview on Fox Business Network's Maria Bartiromo on Mornings With Maria, top White House aide Kellyanne Conway declined to weigh in on her husband's feud with Donald Trump. "I appreciate the president defending what he thinks is unfairness. I'll leave that up to him. I was raised, though, in a household of strong Italian Catholic women who taught me that you air grievances like that in private." said Conway.
She also compared her husband's criticism of Trump to that of others on social media who constantly criticize the president.
"Sure. It's very unusual. It's not just unusual. It's unusual for George, who people know is a very private person who really hasn't weighed in on many different matters over the years. But, anyway, that aside, of course we've talked about it in passing, but he's the president of the United States. And here's something I think is so remarkable. Peoples somehow think they have an equal platform to the president of the United States. Not George, but a lot of people out there are constantly attacking the president on Twitter and FaceBook and elsewhere. He's the president and you're not. And they somehow trick them into thinking, because we have the same platform — I can — I can just — I'm the same as the president. No, you're not. He's the president of the United States."
2.26pm GMT
Economic models on Wall Street predict that Donald Trump will win re-election.
Models based primarily on economic data show Trump as favorite due to a strong economy and low unemployment.
"The economy is just so damn strong right now and by all historic precedent the incumbent should run away with it," said Donald Luskin, chief investment officer of TrendMacrolytics, a research firm whose model correctly predicted Trump's 2016 win when most opinion polls did not. "I just don't see how the blue wall could resist all that."
Models maintained by economists and market strategists like Luskin tend to ignore election polls and personal characteristics of candidates. Instead, they begin with historical trends and then build in key economic data including growth rates, wages, unemployment, inflation and gas prices to predict voting behavior and election outcomes.