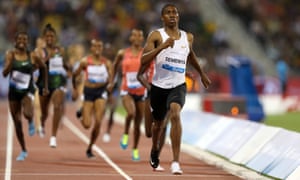 Rules by IAAF would require some female track runners to lower their testosterone levels to compete
Proposed regulations on testosterone levels in women's athletics have been criticised by academics who say they are not backed by scientific evidence and risk opening a pandora's box on genetic advantages in sport.
The International Association of Athletics Federations (IAAF) put forward new regulations which could require some female athletes to lower their testosterone level. However the introduction of these regulations is currently on ice while the courts decide on a legal challenge brought by the South African athlete Caster Semenya, a female 800 metre Olympic gold medallist. A ruling is expected within days.