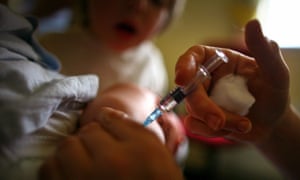 Danish research again dispels link with vaccine at a time of surging measles cases globally
The measles, mumps and rubella vaccine does not cause autism, according to a major study carried out in an attempt to reassure growing numbers of vaccination-doubters, as measles outbreaks surge.
Doubts about MMR were sown by the gastroenterologist Andrew Wakefield, who hypothesised in 1998 that it was linked to autism. The symptoms of the condition often begin to manifest at about the time the jab is given, between 12 and 15 months old.