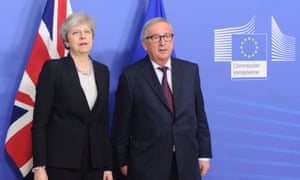 The prime minister's desperate attempts to build a coalition for her deal has failed. It's time for her to admit that
Theresa May's decision to delay the meaningful vote on the terms of her Brexit deal to at least 12 March is the reckless act of a leader running out of ideas. We only have Mrs May's word that "progress" is being made on changes that might make her withdrawal agreement acceptable to a parliament which last month rejected it in the largest ever defeat for a ruling party. MPs will have to decide which way to vote on one of this country's most consequential geopolitical acts – leaving the European Union – just 17 days before it is supposed to happen. In the meantime, the country is driven closer to the cliff edge, egged on by fanatics who think Britain ought to leave the EU with no deal at all, wreaking maximum damage on the economy.
But this is the point of Mrs May's ploy: to rachet up the tension and raise the stakes. The prime minister aims to manoeuvre MPs to a point where a bad deal is better than no deal or no Brexit at all. Mrs May is hoping that her nerve will hold while that of her opponents fails. She is attempting to assemble a coalition to leave on the terms she has negotiated. It corresponds to what her chief Brexit negotiator Olly Robbins was heard boasting about in a Brussels bar earlier this month: that MPs would end up with a last-minute choice between her deal and a lengthy delay. She would then have the option to cast anyone who voted for a delay as an opponent of Brexit and anyone who voted for her deal as a committed leaver. It's not a bad plan; it's just bad for Britain and for this country's politics.