Right/not – he convinced many to sit out the election or convinced many of them to vote for the Green candidate and we have Trump as president as a result. If the non-Democrat leads the ticket Trump will be re-elected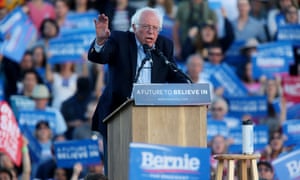 Without Sanders' campaign, we would never have had Alexandria Ocasio-Cortez or mainstream support for Medicare-for-All
It's official: Bernie Sanders announced today that he's going to run for president and lay the groundwork for transforming the economic and political life of this country. His decision comes not a moment too soon.
After all, if you think things are bad now, imagine if Bernie Sanders hadn't run for president in 2016. Imagine if Hillary Clinton had swept the primaries that year, easily parrying Martin O'Malley's feeble blows and a few charming Lincoln Chafee debate performances.
Trump would have still beaten Clinton, but his charlatan, rightwing populism would have been the only outlet for those angry at the status quo. More than anything else, dejection would reign among voters. The Democrats would have heightened their focus on winning over "respectable" anti-Trump Republicans in the suburbs, with depoliticized calls to "fix" Obamacare, find "realistic solutions" to climate change, and make higher education "accessible".