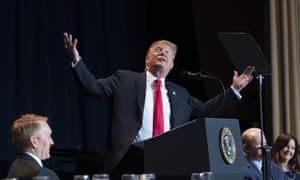 The evangelical fortress around the president can look like a problem, but progressives can use that heresy to fight opponents
The annual anachronism known as the National Prayer Breakfast attracted its usual array of clergy, military, and political leaders in Washington on 7 February. Most prominent of all, of course, was Donald Trump, who used the de facto pulpit to call for outlawing abortion, among other positions dear to the Religious Right.
Yet the presidential comment that most typified all that has gone morally haywire with the supposedly moral majority came when Trump praised the "abolition of civil rights". You can consider that statement an innocent, if embarrassing, misreading of the Teleprompter. Or you can hear it as a Freudian slip.