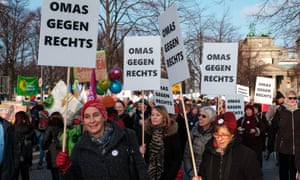 From Germany to the US, older women have been at the forefront of recent demonstrations. This could be the protest force we now need in the UK
"Lest we forget" is engraved on many a war memorial. But across Europe, as far-right parties rise in one election after another, too many voters have forgotten how racist extremism led to war and the Holocaust. That is why a group of older German women are taking to the streets of Berlin in trademark hand-knitted woolly hats, with placards reading: "Omas gegen Rechts" – Grannies against the right.
They protest regularly against the AfD – Alternative für Deutschland – the nationalist party that made alarming gains with its anti-Muslim campaign in Germany's 2017 elections. "I was born in 1943. I remember the ruins of destroyed houses and destroyed streets," Cordula Grafahrend tells the Daily Telegraph. "For us, it's easy to see what we have gained in security, peace and freedom. Our children don't know what it is to live with your life in danger. It's our responsibility to tell them and our grandchildren." The owner of the cafe where they meet sees all the echoes of the Nazis: "Back then it was against the Jews, now it's against the Muslims. But they use the same language. They use words like Volk and Heimat.