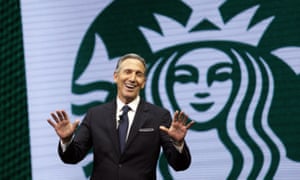 Howard Schultz is the latest self-deluded billionaire with no experience in government contemplating a presidential bid
Donald Trump has set a low bar for other billionaires who are contemplating a run for the White House.
Why not me, they ponder? Trump had no experience in government before he won the 2016 Republican nomination. He was just a popular TV reality star who branded his name on every piece of real estate he built. He wasn't even that successful in business, going bankrupt more than once. He's a lazy-bones, too, rarely hitting the Oval Office until 11.30am, according to Axios, which obtained his daily schedules. His approval ratings may never again cross 40%. If President Trump runs again, he certainly looks beatable.