He thinks nuclear rms talks are the same as trying to rescue one of his sinking casinos?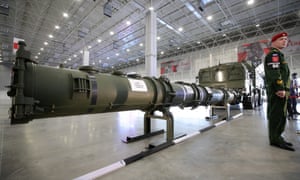 Announcement gives Russia 180 days to destroy violating missiles and launchers to avoid new arms race
Donald Trump has confirmed that the US is leaving the Intermediate-range Nuclear Forces (INF) treaty, saying "we will move forward with developing our own military response options" to Russia's suspect missile.
In a written statement, Trump said that the US would be suspending its compliance with the 1987 treaty on Saturday, and would serve formal notice that it would withdraw altogether in six months.