Imperialism redux and deja vu – grab some oil!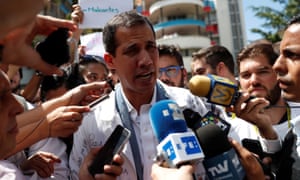 Vote in Brussels comes as arrest and expulsion of foreign journalists in Venezuela draws condemnation
The European parliament has recognised Venezuela's opposition leader Juan Guaidó as de facto head of state, heightening pressure on Nicolás Maduro, amid condemnation over the arrest of foreign journalists reporting on the country's turmoil.
MEPs voted 439 in favour to 104 against, with 88 abstentions, at a special session in Brussels to recognise Venezuelan congress head Guaidó as interim leader. In a statement the parliament urged the bloc's 28 governments to follow suit and declare Guaidó "the only legitimate interim president" until there were "new free, transparent and credible presidential elections".