Too often, religions are used and abused by each other not as a means to advance good will but just to empower faux-religious fanatics who want to be dictators!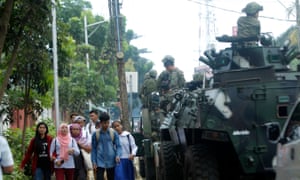 First blast in or near church on island of Jolo during Sunday mass, followed by second outside compound
Two bombs have exploded outside a Roman Catholic cathedral on a southern Philippine island where Muslim militants are active, killing at least 27 people and wounding 77, security officials have said.
The country's national police chief said the first bomb went off in or near Jolo cathedral during a mass on Sunday, followed by a second blast outside the compound as government forces were responding to the attack.