And for sure, Venezuela does not need former colonialists setting her future!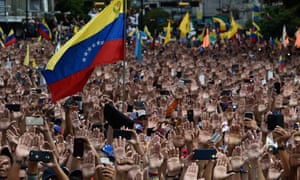 The implicit threat of military intervention on behalf of Juan Guaidó's opposition raises fears of a cold war proxy conflict
Nicolás Maduro was re-elected Venezuela's president last May by fraudulent means, as regional governments and independent observers noted at the time, and his leadership lacks legitimate authority. Maduro, in office if not in power since 2013, has proved himself an incompetent and unimpressive successor to the late socialist president, Hugo Chávez, on whose name and reputation he shamelessly trades.
Maduro has disastrously mismanaged Venezuela's potentially wealthy economy, overseeing severe shortages of food and medicine and hyperinflation. His authoritarian rule, enforced by violence, has exacerbated social divisions, undermined democratic institutions and free media, caused millions to flee abroad and alienated neighbouring countries.