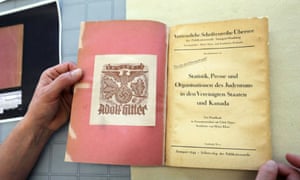 German researcher's 1944 book, once owned by Adolf Hitler, lists Jewish residents of US and Canada
A book once owned by Adolf Hitler, which scholars suspect was a blueprint for a Holocaust in North America, has been acquired by Canada's national archive.
The rare book, of which only a handful of copies remain, was bought online by government librarians last year and unveiled for the first time in Ottawa on Wednesday. The acquisition, which curators say will preserve a critical piece of history, comes at a time of growing antisemitism and Holocaust denial in Canada.