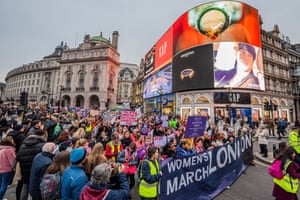 Tens of thousands take to city streets to protest against violence and the impact of austerity on their lives
Propelled by a mass public rendition of Sisters Are Doin' It for Themselves and accompanied by a thudding police helicopter overhead, hundreds of protesters rallied in central London yesterday in solidarity with an estimated 89 Women's Marches worldwide.
In Athens, Berlin, Washington DC and Los Angeles, to name just a few, tens of thousands of demonstrators turned out to protest against violence against women and the impact of policies of austerity. They also had some choice words for Donald Trump and Theresa May.