Vlad welcomes a weaker Britain and EU – suits him fine!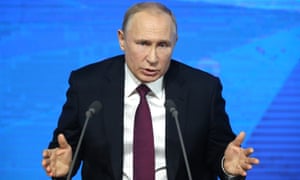 Russian president ranges across subjects including nuclear weapons, the war in Syria and a crackdown on rap during annual televised presser
Vladimir Putin has said the UK should not hold a second referendum on Brexit, insisting Theresa May must "fulfil the will of the people".
Offering public support that the embattled British prime minister may rather do without, Putin said he "understood" May's position in "fighting for this Brexit".