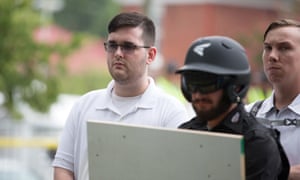 Jury finds Fields, 21, guilty of first-degree murder
Heather Heyer, 32, was killed in August 2017 crash
A jury has found 21-year-old James Alex Fields Jr guilty of first-degree murder for intentionally driving his car into a crowd of counter-protesters at a white nationalist rally, killing one woman and injuring dozens.
Fields was charged with first-degree murder and other felonies in the August 2017 crash that killed 32-year-old Heather Heyer. Her death came after police forced a white nationalist rally in Charlottesville to disband, after participants had clashed with counter-demonstrators earlier.