Many nations have trouble admitting they have committed crimes against humanity – Japan is one of them.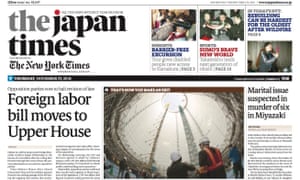 Change prompts concern that country's media is trying to rewrite wartime history
Japan's oldest English-language newspaper has sparked anger among staff and readers after revising its description of wartime sex slaves and forced labourers from the Korean peninsula.
In a decision that critics said aligned it with the conservative agenda of the prime minister, Shinzō Abe, the Japan Times said it had used terms "that could have been potentially misleading" when reporting on the contentious subjects.