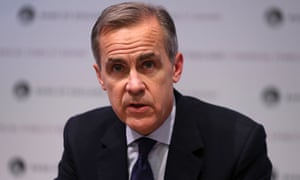 Rolling coverage of the day's political developments as they happen, including Theresa May and Jeremy Corbyn at PMQs and the publication of the government's official analysis of the economic impact of Brexit
5.04pm GMT
And here is more from the Press Association report about the Bank of England Brexit analysis.
In the event of a disruptive Brexit, where there is no change to border trade or financial markets, GDP may fall 3% from its level in the first quarter in 2019.
In this scenario, the unemployment rate will hit 5.75% and inflation rises to 4.25%.
4.55pm GMT
My colleague Graeme Wearden is covering the Bank of England announcement in more detail on his business live blog.
Related: UK banks pass 'disorderly Brexit' stress test – business live