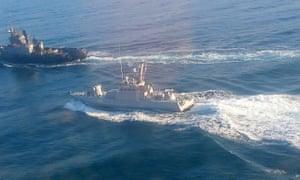 Petro Poroshenko calls emergency meeting of war cabinet, amid claims Russian forces have seized Ukrainian vessels
The Ukrainian navy has accused Russia of opening fire on its ships in the Black Sea, injuring two crew members, and said Russian special forces have seized three of its vessels.
The Ukrainian president Petro Poroshenko has called an emergency meeting of his war cabinet in response to the incident, according to reports. Russia has so far not responded to the incident.