Like elaborate comb-overs? ROTFLMAO!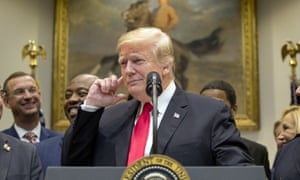 President gives no evidence as he calls for new voter ID laws, saying 'buying a box of cereal' is qualification to vote
Donald Trump has claimed without evidence that people wear disguises to vote illegally in Florida as the state hurtles towards a Thursday deadline for completing vital election recounts.
Many of the swing state's 67 counties have finished running their ballots through tallying machines for a second time to decide US Senate and governor's races but, more than a week after election day, major Democratic strongholds are still struggling amid partisan recriminations, a barrage of lawsuits and untested allegations of fraud.