Will he respect the ruling?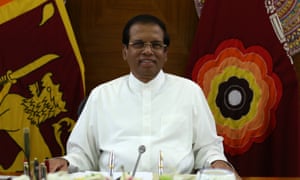 Purportedly sacked PM Ranil Wickremesinghe says president is 'not above the law'
Sri Lanka's supreme court has suspended the president's controversial decision to dissolve parliament and MPs are planning to meet to decide between the two men claiming to be the country's lawful prime minister.
In a verdict hailed as one of the most important in Sri Lankan history, the court ruled on Tuesday evening to suspend the order by the president, Maithripala Sirisena, calling for fresh elections that followed his attempt to install Buddhist strongman Mahinda Rajapaksa in the prime minister's office.