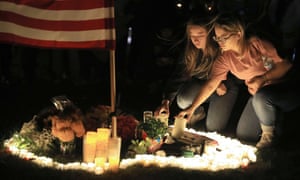 Victims' families expressed anger while Trump did not address the issue and blamed mental illness, calling the shooter 'a very sick puppy'
Shock turned to anger in the quiet suburb of Thousand Oaks on Friday after a man shot 12 dead in a bar, including at least one victim who had survived a previous attack.
Former US marine Ian Long entered a country and western bar in Thousand Oaks on Wednesday night and killed 12 people including a sheriff's deputy. More than two dozen were wounded.