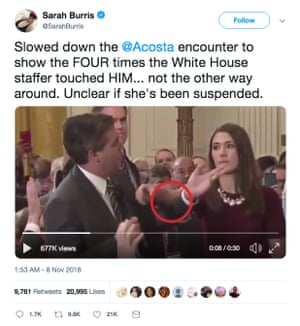 Trump backers and opponents dissect video of flashpoint at White House press conference
It lasts barely a couple of seconds, but the video of a White House staff member trying to take a microphone from the CNN reporter Jim Acosta during a chaotic press conference has become the focus of the latest online battle between Donald Trump supporters and opponents.
Jim Acosta's "hard pass", which gives continuous access to the White House for press events, was revoked after he challenged Trump's description of a "caravan" of migrants moving towards the southern border of the USA, which had been a significant feature of the president's mid-term election campaign speeches. Acosta has been CNN's chief White House correspondent since January of this year.