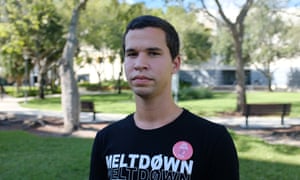 Cuban immigrants were drawn to the Republican party in the 80s, but their children and grandchildren are shifting the vote
Miami runs on Cuban cafecitos, Cuban sandwiches and "Cuban time" – a favorite excuse for being 45 minutes late. As the largest group of Latinxs in Florida and Miami, Cubans are credited with giving the city its cultural core.
A bit of Cuba can be heard in the Miami accent, tweaking a local's tongue to round vowels and cut syllables. And Cubans are also heard through their politics, or so the cliche states: they will always push Miami, and Florida, to the right.