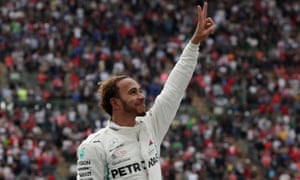 • Driver celebrates landmark at Autódromo Hermanos Rodríguez
• Champion has no intention of easing off in search of honours
Measured even by the exceptional standard he has set in dominating Formula One Lewis Hamilton, in taking his fifth title in Mexico, has unquestionably raised the bar to new heights. We, like he, should revel in his achievements. If motor racing's history is defined by drivers, this must surely now be considered the Hamilton era. Delivering the championship was proof, were any needed, that not only is he at the peak of his powers but that as things stand no one can match him.
Max Verstappen won the race for Red Bull but Hamilton's fourth place was enough to seal the title. The Briton knew what he had to do and delivered, as he has so often this season.