How low can he go? Going for the record in silencing opposition!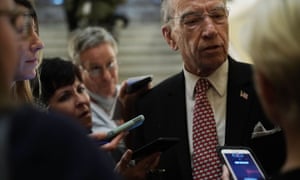 Senate judiciary chairman Chuck Grassley has accused Julie Swetnick and Avenatti of 'potential conspiracy' and 'obstructing a committee investigation'
Chuck Grassley, the chair of the Senate judiciary committee, has referred the lawyer Michael Avenatti and Julie Swetnick, one of Brett Kavanaugh's accusers, for criminal investigation.
In a statement, Grassley said he was referring the two to the justice department for a "criminal investigation relating to a potential conspiracy to provide materially false statements to Congress and obstruct a congressional committee investigation".