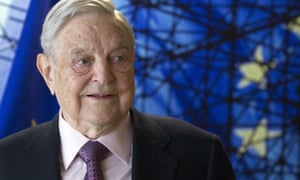 The billionaire was the first target in a series of mail bombs sent this week, an attack that comes as vilification of Soros has reached new heights
As investigators seek answers in the case of mail bombs sent to Hillary Clinton, Barack Obama and others, there will be no shortage of evidence regarding the first target, the billionaire philanthropist George Soros.
The bomb maker's motivations remain unknown. What is clear is that the attempted attack comes as the demonization of Soros in the US, previously limited to fringe groups on the far right, has reached new heights. More recently it has been taken up by the most senior Republican politicians in the country, up to and including the president.