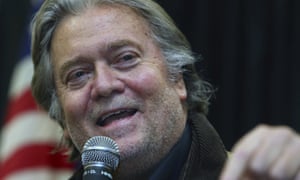 Trump's former strategist touts his role in president's success before crowd of 200 in upstate New York
As Donald Trump held midterm rallies this week in front of thousands, his one-time chief strategist Steve Bannon made his own, rather more low-key return to the campaign trail.
Bannon appeared in front of 200 people at a firehouse outside Buffalo, New York, ostensibly to campaign for Republicans based in the area. But in a visceral demonstration of just how far Bannon's stock has fallen since leaving the White House 14 months ago, none of those Republicans running for office turned up.