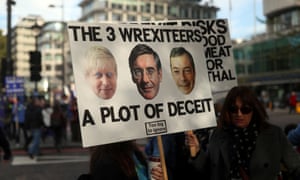 More than 100,000 people are expected to gather in London for what organisers hope will be the most important anti-Brexit protest since the referendum
1.11pm BST
Four packed coaches set off at 9am from Birmingham, which voted marginally in favour of Brexit in 2016, to carry people to the march in London.
At 12.30pm they arrived on Park Lane and the passengers, kitted out with EU flags, t-shirts, banners, badges and whistles, immediately swarmed towards the crowd as it inched eastwards towards Westminster.
1.07pm BST
Sadiq Khan, the mayor of London, will address the crowd later today.
As Mayor, I look out for Londoners. And we need a public vote on Brexit. #peoplesvote #peoplesvotemarch pic.twitter.com/SVYCdpjg9s
London Mayor Sadiq Khan says "politicians can't be trusted to make the right decision" and calls for the British public to have the final say on the Brexit deal
Read more on the #PeoplesVote march taking place in London today here: https://t.co/yY6k1lkB39 pic.twitter.com/bRLINdhNAV