ROTFLMAO – trying to be relevant but just ends up being trying.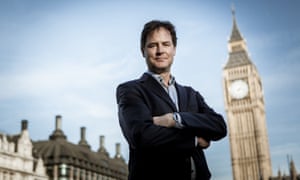 It's time we harnessed big tech to the cause of progress and optimism. I believe that Facebook can lead the way
Next week it will be my first day in a new job, after almost 20 years in public life in Europe and Britain. It could not be more of a contrast. Instead of the gothic splendour of Westminster, I will be surrounded by the gleaming glass and steel of Silicon Valley. Instead of the clout of the state in Whitehall, I will now experience the dynamism of the private sector in Palo Alto. Instead of the impact of Brexit, I will now be focused on the impact of tech.
A job at Facebook is – literally and metaphorically – a long way from SW1. I have mixed feelings about leaving the UK's public debate about the future of our country's relations with the rest of Europe. Since the referendum, I have devoted my energies to making the case – often in uncompromising terms unavailable to those still in office – for a rethink of what I believe may turn out to be the greatest act of self-harm committed by a mature democracy. It is being made against the interests and wishes of those who have to bear the heaviest consequences: the young.