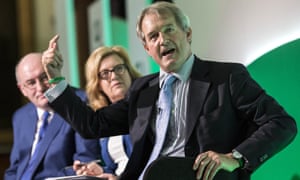 The former Northern Ireland secretary is being simplistic on cross-border trade and reckless with the peace agreement
Owen Paterson, a former Secretary of State for Northern Ireland, argued this week in the Guardian that the UK could leave the customs union, break free from EU rules, and still avoid a hard border on the island of Ireland.
The problem with this claim is that the logic of a hard Brexit means hard borders. The EU is the world's most advanced legal, technical and institutional environment for seamless border management. As Brexiteers well know, this has entailed common rules and coordinated systems. Paterson's claims rest on the assumption that the UK can rip up the terms and conditions but stay in the club.