Huh?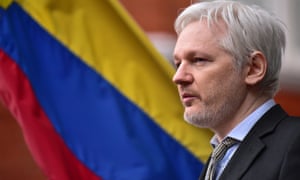 Campaign defends site in legal filing marking departure from US policy
Emails' publication is central to Robert Mueller's Russia inquiry
The Trump campaign argued in a legal filing that WikiLeaks could not be held liable for publishing emails that were stolen by Russian hackers ahead of the 2016 US election because the website was simply serving as a passive publishing platform on behalf of a third party, in the same way as Google or Facebook.
Questions about WikiLeaks' publication of thousands of hacked emails, which it allegedly obtained following a plot by Russian military intelligence to steal the emails from Hillary Clinton's presidential campaign and the Democratic party, are at the heart of Robert Mueller's criminal investigation into possible collusion between the Trump campaign and the Kremlin.