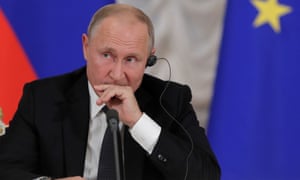 Backing for ruling party also falls as analysts say pension changes the likely cause
Trust in Vladimir Putin and Russia's ruling party have declined steeply over the past year with analysts pointing to the government's controversial pension changes as the main reason.
In a poll by the independent Levada Centre, 39% of Russians listed Putin as a politican they trust. That is a 20% decrease from November 2017, when Putin was named by 59% of Russians, according to the same polling agency.