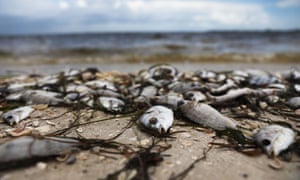 Governor blamed for weakening environmental protections
Red tide spreads to Atlantic waters off Miami and Palm Beach
Barely a month ago, Republican Rick Scott held a clear lead in the race to become Florida's next US senator. Now a tidal wave of toxic algae threatens to engulf the campaign of the outgoing state governor, whom critics have dubbed Red Tide Rick.
Wildlife officials confirmed on Thursday that the same deadly algae bloom that overran Florida's south-west coastline this summer, killing dolphins, fish, manatees and turtles and devastating the area's tourism industry, had washed ashore on several Atlantic coast beaches.