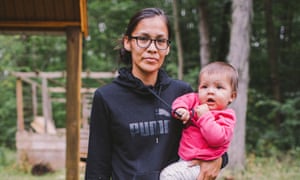 Just 90 minutes from Toronto, residents of a First Nations community try to improve the water situation as the beverage company extracts from their land
The mysterious rash on the arm of six-year-old Theron wouldn't heal. For almost a year, his mother, Iokarenhtha Thomas, who lives in the Six Nations of the Grand River indigenous reserve in Ontario, went to the local doctor for lotions for the boy. It worked, for a time. But the itchy red rash always returned. Thomas came to suspect the culprit behind the rash: water – or, rather, the lack of it.
Thomas, a university student and mother of five, has lived without running tap water since the age of 16. Her children lack access to things commonplace elsewhere, like toilets, showers and baths. For washing and toilet usage, they use a bucket.