How long will it take to walk this back?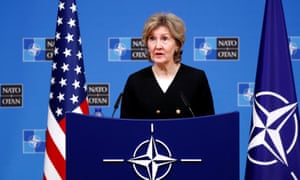 Kay Bailey Hutchison seems to raise prospect of strike
Washington says cruise missile breaks 1987 INF treaty
The US ambassador to Nato has warned Russia that if it does not halt the development of a new cruise missile in violation of a treaty between the countries, the US will "take out" the missile.
Kay Bailey Hutchison was speaking to reporters about a longstanding issue of contention, a Russian ground-launched cruise missile which Washington says breaks the 1987 Intermediate-Range Nuclear Forces Treaty (INF).