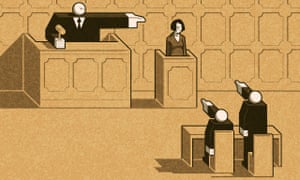 From Anita Hill to the victims of Cosby and Weinstein, women are disbelieved, powerful men excused. When will we learn?
We have been here before. We have been here over and over in an endless, Groundhog Day loop about how rape and sexual abuse happen: offering the same explanations, hearing the same kind of stories from wave after wave of survivors, hearing the same excuses and refusals to comprehend from people who are not so sure that women are endowed with inalienable rights and matter as much as men – or, categorically, have as much credibility. We are, with the case of Brett Kavanaugh, Donald Trump's nominee for the US supreme court, who has been accused of sexual assault, revisiting ground worn down from years of pacing. Kavanaugh denies Christine Blasey Ford's allegation that he forcibly held her down and assaulted her when both were at high school. We have only the accounts of the participants, and these, it seems, will always contradict each other. The allegation and the denial put us back in a familiar scenario.
The last five years have been an exhaustive and exhausting crash course in how abusers and rapists (and attempted rapists) and their victims behave, and how they are perceived and treated, but the learning curve of the wilfully oblivious resembles the period at the end of this sentence.