Just run by neo-fascists!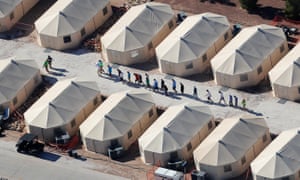 Authorities are using applications to pursue and deport would-be caretakers who are undocumented, an Ice official told Congress
The Trump administration, in its continued immigration crackdown, has arrested more than 40 people who came forward to help undocumented migrant children, in a move that is sparking alarm among advocates.
Parents, relatives and friends of children in federal custody can apply to become sponsors and take in minor detainees from government shelters – but authorities are now using their information to pursue and deport such would-be caretakers when they are themselves undocumented immigrants, an Immigrations and Customs Enforcement (Ice) official told Congress this week.