good on you!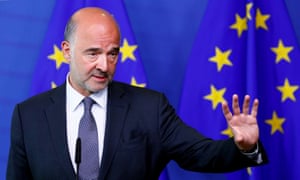 Pierre Moscovici, EU economics commissioner, told to 'wash his mouth out' by Italy's deputy PM Matteo Salvini
The EU's top economic official has voiced fears that "little Mussolinis" might be emerging in Europe, drawing a furious response from Italy's far-right interior minister who accused him of insulting his country and Italians. 
Pierre Moscovici, a Frenchman who is the European Union's economics affairs commissioner, said the current political situation, with populist, far-right forces on the rise in many nations, resembled the 1930s when Germany's Adolf Hitler and Italian fascist chief Benito Mussolini were in power.