Wannabe Il Duce! and A-hole of Italy!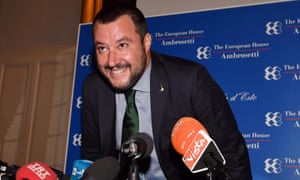 Interior minister pledges support to the Movement after meeting in Rome
Matteo Salvini, Italy's interior minister and populist leader, has met Steve Bannon and joined the anti-European establishment group, the Movement, founded by Donald Trump's former chief strategist.
"He is in!" tweeted Mischaël Modrikamen, the Belgian politician and co-founder of the People's party, who is also a member of Bannon's group which unites Euroscepticand populist forces.