Does not understand difference between free speech, being Putin's BFF, lying about everything, and accepting money from Russians for favors.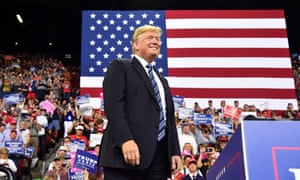 At Montana rally, president hails Republican who assaulted Guardian reporter as fighter 'in more ways than one'
Donald Trump on Thursday accused the New York Times of committing "treason" after the paper published an opinion piece by an anonymous senior administration official who detailed a "quiet resistance" working to rein in the president.
During a campaign appearance in Billings, Montana, Trump also praised Greg Gianforte, the Republican congressman who physically attacked the Guardian reporter Ben Jacobs last year, as "a fighter and a winner".