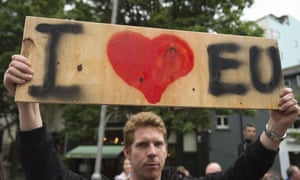 The vote to leave the EU made me take action. We now have Volt, a party offering a different kind of politics
Before Brexit I never thought deeply about Europe. I benefited from the European Union, studied its shortcomings and achievements, yet it had always seemed to be a given. But 23 June 2016 changed everything. On the morning of Britain's vote to leave the EU I was on the phone to my partner, Andrea Venzon, and felt devastated. I grew up in France and studied law in the UK. Andrea and I had always planned to move to London some day. It just made sense: I'm French, he's Italian, and we'd first met there. We represent the generation who have been able to study across Europe as part of the Erasmus scheme. Suddenly we had to rethink everything. I was 22.
During that call, Andrea said something that struck me: "Let's stop complaining and actually do something." Since bad politics had brought us here, good politics might be the answer. He had the right idea: to start a progressive, pan-European movement. We called it Volt: a word that's understood across borders and shows we want to bring new energies to Europe.