He would – always ready to sell out himself or his country.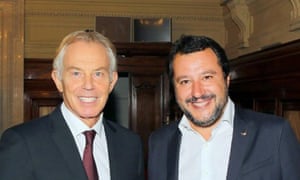 Far-right minister believed to have discussed Azerbaijani gas pipeline project with ex-PM
Tony Blair has held a meeting with the Italian far-right interior minister, Matteo Salvini, during which the pair are believed to have discussed controversial plans to extend a gas pipeline from Azerbaijan to southern Italy.
The Italian minister had previously said he was willing to hear the former British prime minister's views on the Trans Adriatic Pipeline, an Azerbaijan-backed project on which Blair has worked as a consultant since 2014.