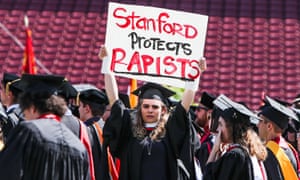 Betsy DeVos, Trump's secretary of education, is planning to water down sexual misconduct rules. This is yet another sign of hostility towards survivors
Betsy DeVos's education department is about to deal a major blow to sexual assault and harassment victims on college campuses.
According to proposed rules obtained by the New York Times, the updated sexual misconduct rules would tip the scales in favor of the accused and make it harder for those who say they were victimized to get justice. In a criminal proceeding, that's acceptable – the burden of proof of guilt beyond a reasonable doubt should fall to the powerful state. But these aren't criminal proceedings: they're civil rights proceedings, fundamentally about the right of women to get an education without harassment or abuse. The DeVos rules will make that harder – without adequately addressing the legitimate due process concerns that have arisen over campus sexual misconduct investigations.