As he points a right-wing finger, three point back at him – He and his kind initiated perpetrated hundreds of years of coverups of many church crimes. Counting on press to broadcast his lies without checking facts first?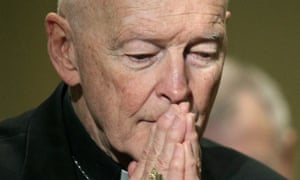 Retired diplomat urges pope to resign over allegations against former archbishop
A retired Vatican diplomat has called on Pope Francis to resign, claiming he was aware of abuse allegations against a prominent figure in the church hierarchy from 2013 but failed to take action.
There was a "conspiracy of silence not so dissimilar from the one that prevails in the mafia", said Archbishop Carlo Maria Viganò, 77, a former Vatican ambassador to the US.